The building of Bainskloof Pass
(Part 2)
It's time to take a closer look at the life of Andrew Geddes Bain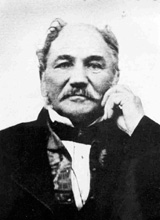 Andrew Geddes Bain was born in June 1797 in Thurso, Scotland. He was 19 years of age in October 1816 when he first set foot on Cape soil. As of yet there is no consensus as to what Bain was up to during these early years in the Cape. It has been assumed that he received training in the trades of tanner and saddler, but even this is pure speculation. Although he received initial teaching in Edinburgh, there were no specially oriented instruction involved. In spite of all this would he still emerge as an exceptional road engineer and especially as the father of South African geology.
On 16 November 1818 he married Elizabeth von Backström in the Groote Kerk in Cape Town. Born of this marriage were eight daughters and three sons. Thomas Charles John, his second son, would later join his father as apprentice road builder to one day become the builder of many more roads than his father.
Andrew was described as somewhat taller than the average man, broad shouldered with a strong build. According to his own account did he have red hair and a moustache. As a patriotic Scot his view of the English was not without enmity. He also had a fair knowledge of Cape Dutch and was the author of a mocking poem titled "Kaatjie Kekkelbek", which could be viewed as a frontrunner of Afrikaans poetry. Bain was a frequent traveller and went on several inland expeditions with the main purpose of trading ivory and other goods.
Andrew's road building career took off in the Eastern Province where, in 1832 he offered to build the Ouberg pass outside Graaff-Reinet at no cost. At the time he was a resident of Graaff-Reinet since 1819 where he first traded as a saddle maker and later became an inn-keeper. He also helps with the building of Ryneveld's pass just north of Graaff-Reinet and receives a special medal from the residents of Graaff-Reinet as a token of appreciation for the service rendered to the community.
During his stay in the Eastern Province did he also emerge as an artist, poet, journalist and expedition leader. While on one of his expeditions his equipment and collections were destroyed and his oxen stolen by the tribal warriors of Mzilikazi. To curb the financial loss, he became a soldier. His first active duty assignment was in the Sixth Border War of 1835 where he served as captain of the Graaff-Reinet Citizen commando. After the war he was awarded a farm in the Adelaide district by the government in recognition of his military service. Bain then sold his house in Graaff-Reinet to build a house on the farm and starts an irrigation system where water is tunnelled through to the crops. After one year the government decides to restore ownership of the land to the Xhosas and Bain had to relinquish all his improvements without any payment to offset the loss.
His earlier experience as a pass builder provided him with a position in the Royal Engineering Corps where he was responsible for overseeing the building of military roads in the Eastern Province. The work most important to him was to build the Queen's Road between Grahamstown and Fort Beaufort. The Eccapas and Fish River Bridge was part of this construction. At the time it was also the largest bridge in Africa.
After he obtained a copy of the book titled "Principles of Geology" in 1837, he became interested in the subject of Geology, which would later serve as titillation for his interest in fossils. Hereafter he would, in typical autodidactic fashion, fervidly pursue his new found interests with all available time as well as his some of his own money in order to expand his knowledge of the science. It would also be during this time that he made an important discovery of the remains of the "Blinkwater Monster" which would serve as the first known example of an upright walking vertebral animal.
It was in this period during 1844 that Bain tried to donate his collection of fossils to an unknown organization in South Africa, but they declined his offer stating that they don't want his "collection of old rocks". He then proceeds by sending his collection to the Royal Geological Association in London who accepts it in acknowledgement of its great value. It was through this donation that Bain became world renowned. Shortly after this event would he start working on South Africa's first geological map. It was on the topic of this map that Bain wrote to his friend in 1847, C. H. Ginsbrook from Graaff-Reinet, that it is possibly the single biggest contribution that any unsubsidised individual ever made to the physical sciences in South Africa. It would bestow upon Bain the title "Father of South African Geology".
It was during the year 1845 when Bain's military unit got disbanded and he received an offer from the Central Roads Board to become the road inspector for the Western Province. His initial task was to oversee the building of the pass at Mostertshoek while Bainskloof followed. After Bainskloof he oversaw the construction of several roads in the western parts of the Cape colony before he were transferred to the eastern parts. His wife passed away after their relocation in 1857 and Bain married Theodora Kerr, a widow from Uitenhage one year later. This marriage was short lived as his new wife moved back to her former home shortly thereafter.
In 1860 Bain began work on the Katberg pass between Fort Beaufort and Queens Town. This excruciating task did not come easy to the aging 63 year old Bain as he had to take frequent sick leave during the construction. He could however not retire since at the time pension schemes as we now it today was not part of the social paradigm. During 1864 he received one year's worth of paid sick leave which he uses to return to England for recovery. He also saw this as an opportunity to attend a geological conference held in England. The severity of his condition however prevented him to attend and he had to return to Cape Town before his leave was over. Bain was too weak to return to Katberg lived in Cape Town where the De Smidts - the in-laws of his son Thomas - took care of him until his death on 20 October 1864.
Andrew Geddes Bain's contribution to a more effective logistical infrastructure in the Cape colony from the 19th century can never be underestimated. As pass builder did he certainly do pioneering work in South Africa. Yet his biggest legacy might not be found in the seven mountain passes and various other roads that he built, but rather in his son Thomas, who were trained as engineer by him, and who with his 25 passes had a far greater impact on the Cape's interior road system in providing it with effective communication means.
His love for the veld was expressed in 1857 as follows:
"Now I have been a great traveller in South Africa; for tens of thousands of miles has a bullock wagon been my home and consequently I know something of outspanning which is to me an ever recurring source of delight… For
"Use doth breed a habit in man
This shadowy desert, unfrequented woods,
I better brook than flourishing peopled towns:
Here I can sit, alone unseen of any,
Find tongues in trees, books in running brooks,
Sermons in stones and good in everything."