Introduction to the history of Bainskloof Pass
Begin your journey of exploring Bainskloof's rich history here.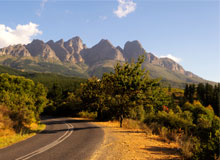 The Bainskloof Pass opened in September 1853 and were the primary gateway to the northern parts of South Africa until Du Toitskloof Pass were completed in 1949. While Bainskloof Pass is one of South Africa's less travelled passes today, it still receives a frequent flow of traffic form the neighbouring towns and from tourists visiting the area.
The majority of tourists visit Bainskloof to appreciate its scenic beauty. It's easy to get apprehended by the natural splendour of Bainskloof and forget about the less visceral details which has given the pass its unique place in history. Here we may mention the man made structures along the pass and building thereof. It is unfortunate that information with regards to the pass's rich history is not easily obtainable.
The local road authorities erected a number of name plates at the locations of historical importance during the early 1990's. Many of these are no longer in place due to vandalism and disappearance. In 2000 the Winelands Districts board substituted many of these plates with more permanent fixtures in the form of curb stones. The pass has been declared a South African national heritage site while the largest portion of land surrounding the pass lies within the borders of a nature reserve. This requires explorers of Bainskloof to obtain a permit from the nature reserve authorities before they can undertake their adventures.